Since Russia's invasion of Ukraine in February 2022, the western world has banded together in a great show of unity against the world's largest gas exporter. Britain, in particular, has somewhat led this crusade, with Liz Truss declaring earlier this year that Britain will 'end all imports of Russian coal and oil by the end of 2022'.
The full list of sanctions imposed upon Russia by Britain can be found here but the key sanctions are detailed below:
asset freezes against Sberbank and Credit Bank of Moscow. Sberbank is Russia's largest bank and this freeze is in coordination with the US
an outright ban on all new outward investments to Russia
by the end of 2022, the UK will end all dependency on Russian coal and oil, and end imports of gas as soon as possible thereafter. The export of key oil refining equipment and catalysts is also banned
action against key Russian strategic industries and state-owned enterprises. This includes a ban on imports of iron and steel products, a key source of revenue
British sanctions include a commitment to end 'as soon as possible' usage of Russian gas. The government has legislated for a ban to start on the 1st of January 2023. This sanction has already been realised, there were no imports of energy from Russia to Britain in the month of June 2022 for the first time since records began and there have been no imports of gas since.
The EU has this informal sanction in place too, with EU nations committed to reducing the usage of Russian energy an entire two-thirds by the end of the year.
The United States has completely banned all imports of Russian energy.
Britain only imported around 4% of our total gas needs from Russia in 2021, as such we are not reliant on gas from Russia. That fact is irrelevant, however, as the rest of Europe is very much so reliant on Russian energy, which has a knock-on effect on the global market.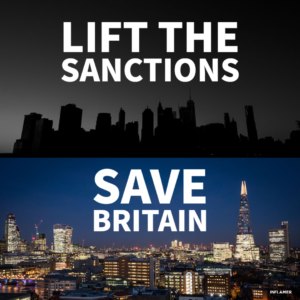 The sanctions and their effects can be summed up using simple supply and demand. The West has self-restricted its supply by cutting off Russian energy imports, Russia, in turn, has reduced its energy exports by shutting Nord Stream 1 down indefinitely which normally supplies around 35% of the EU's gas, and cutting its gas supplies to Europe by 88%. If you have a high demand for energy, as it is a necessity to keep your economy functioning and your people warm, but low supply, prices will inevitably increase as countries and consumers globally attempt to outbid each other.
Primarily, sanctions are used to 'deter bad behaviour' and to 'enforce economic punishment' in the hopes, the targeted country changes its course of action. Of course, the Russia-Ukraine war persists at the time of writing this article; the sanctions have not deterred Russia from its objective of taking Ukraine. They have however inflicted massive economic damage, but not just on Russia. Whilst the Russian economy and specific industries are severely damaged, it has not collapsed and the damage is not as dramatic as the West had hoped for when they introduced sanctions. In the context of why the sanctions were introduced, the aim of withdrawal has not been achieved; they have not deterred Russia and they can only be considered a failure, so far.
The sanctions are an act of mutual self-inflicted economic destruction upon Britain and Russia, and they have not worked.
So whilst Russia is suffering, Europe is also suffering, particularly Britain. The sanctions have sent energy prices in Britain from around £1300 a year for an average family bill in the winter of 21/22, to around £3600 a year for the period of Oct-Dec 2022. That is a 176% increase in energy bills. This is of course controlled by the governments Energy Price Guarantee that caps a typical average household bill at £2500 (all dependant on usage), but the cap will now increase to £3000 in April 2023, by which time energy bills are projected to be even higher. According to Cornwall Insights, an energy research, analytics, and consulting firm, prices will continue to rise to an average of £4250 in the first quarter of 2023, dropping down to £3700 in the second quarter.
These increases are unaffordable for individuals and families, many will go without to be able to pay their bills, and others simply will not be able to cut their spending any further. Spending in the economy will fall, as people will not have the money to spend, exacerbating the two-year recession Britain now finds itself in. The dramatic rise in energy prices is one of the main drivers of inflation meaning the cost of everything else has risen as businesses pass on increased costs to consumers. Inflation in October 2022 rose to 11.1% from a year earlier according to the Consumer Price Index; this is the cost of sanctions.
Energy prices and the recession will not only affect individuals and families but businesses that will not be able to stay afloat. Whilst the government has introduced an Energy Bill Relief Scheme for businesses, voluntary and public sector organisations, like the EPG, this ends on the 31st of March 2023 at which point businesses will be left to survive. Insolvencies are at a 13-year high with 5,629 in the second quarter of 2022, the highest since the third quarter of 2009. Over a third of the U.K.'s hospitality sector say they are at risk of closure early next year due to higher costs, soaring energy bills, and weakened consumer demand.
Britain may also face blackouts as well as economic decline and hardship. The National Grid has stated blackouts could be imposed in January or February 2023 on households if Britain is unable to import enough gas.
The British ruling class has made their decision; their support for Ukraine and hatred of Vladimir Putin outweigh economic decline and suffering at home. Former Prime Minister Boris Johnson even stated as such, saying in a speech that Britain had to endure economic suffering as 'Ukrainians are paying in blood'. However, they are only prepared to support their decision for so long, by which the energy support packages will end and Britons will be under even worse economic conditions.
We do not have the luxury to be able to weather this storm.
To lift the sanctions is to save Britain. Save her economy, save her businesses, save her families, and de-escalate a dangerous war.
This campaign is not about being pro or anti-Ukraine, or even pro or anti-Russia, it is about being pro-Britain, putting this country and her people first, and ensuring we do not slip further into economic decline.
The sanctions on energy are not working; they have inflicted great harm on Britain and Europe for little gain. Lift the sanctions, save Britain, and maybe even save Europe too.